From 5.-16. August, NIBIO Svanhovd had the honour of hosting three of these amazing young students: Pablo Gómez Toribio from Spain with his teacher Francisco José Gómez Senent, and Glykeria Bouki and Triantifillia Vaiopoulou from Hellas with their teacher Stelianos Anastasopoulos. It was such an amazing experience. For the visitors, and for the organizers. Hilde Karine Wam in NIBIO is full of enthusiasm when she tells about the 12-day long expedition. With basecamp at the research station Svanhovd in the Pasvik valley, the expedition participants hiked, swam, climbed, rowed and drove across large parts of the very north of Norway.

A tired, but hugely content group at the final evening of the expedition. From left to right: Paul E. Aspholm (expedition in-situ leader, NIBIO), Triantifillia Vaiopoulou (student from Hellas), Stelianos Anastasopoulos (teacher from Hellas), Glykeria Bouki (student from Hellas), Francisco José Gómez Senent (teacher from Spain) and Pablo Gómez Toribio (student from Spain). Behind the camera: Hilde Karine Wam (project leader, NIBIO).
The program was intense, and the days long. The participants returned home almost exhausted, but very grateful and content. Teacher Francisco José Gómez Senent summarized it this way – I had no idea so many things can be done in one day! This was a great way to teach our students that efficient and organized work allows many tasks to be done. Student Glykeria Bouki confirmed – The schedule was exhausting, but we learnt a lot from it. We came here for this reason. To learn. Becoming so tired was worth it!

The students learnt that almost nothing stops a dedicated researcher. Here they are out to fetch fishing nets in a heavy rainstorm on the vast Pasvik river. Photo: NIBIO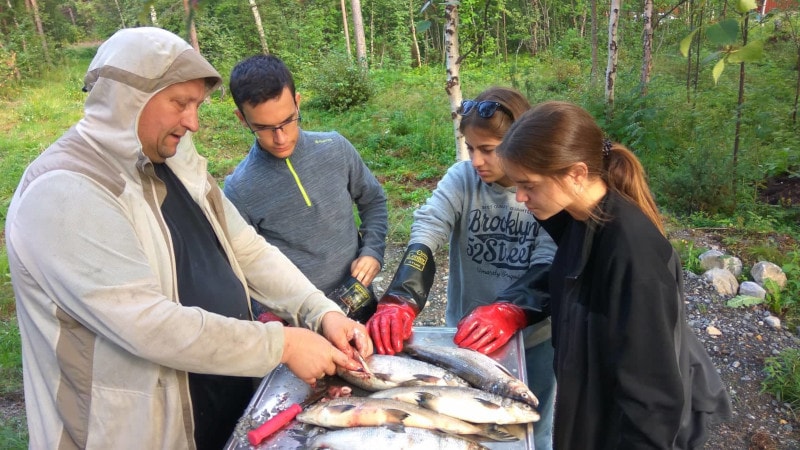 After the fish had been collected from the fishing nets, the students contributed to science by taking samples for determining age, DNA profiles and content of heavy metals such as mercury. Photo: Paco Gómez Senent

Another new lesson for the students was to spend the night outdoors in tents. They got a challenging debut, and had to raise and clear camp in stormy surroundings at Varangerhalvøya. Photo: NIBIO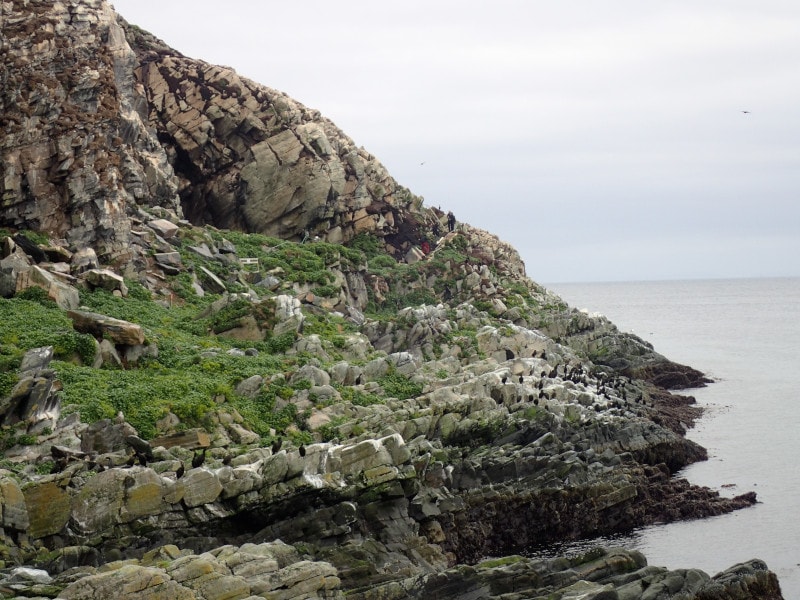 This is Hornøya, a nature reserve for birds. If you look closely, you will see the expedition climbing through the colony of cormorants. During the visit to the island, the group saw many, many bird species, and had great discussions about the balance between tourism and nature preservation. Photo: NIBIO
There was not only outdoor life for the students. On two occasions, they presented their projects for an international audience, including scientists who are experts on the very topics the students presented. How brave! The students impressed their audiences, with their maturity of knowledge and presentation skills. Pablo Gómez Toribio later wrote in the expedition diary: "We went to Kirkenes to do the presentations in the Barents Sekretariat. It was really motivating. The people that were attending were so interested in our projects, and that made me feel proud of my work".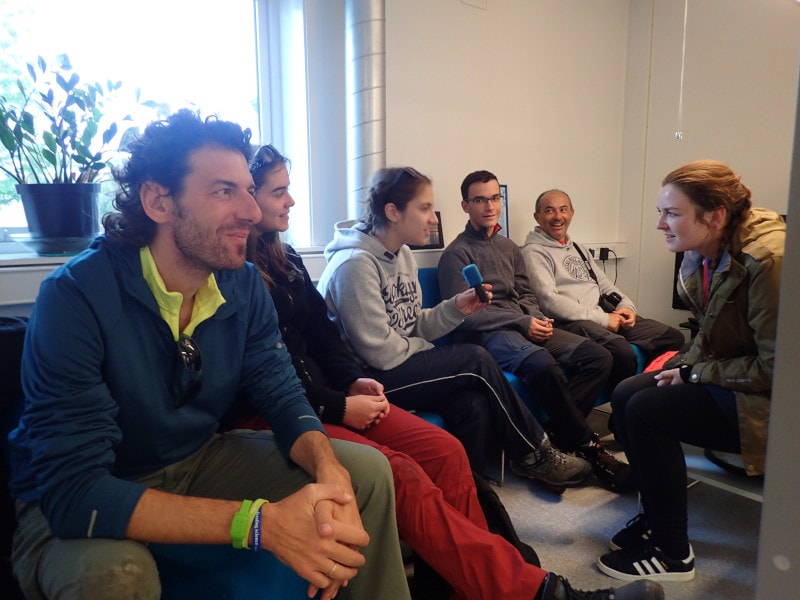 The students and teachers were interviewed for radio by NRK, the national broadcaster of Norway. Here Triantifillia Vaiopoulou captivates the reporter with her project about basal flora. Nearest to the camera is her proud teacher Stelianos Anastasopoulos. Photo: NIBIO
– The atmosphere during the expedition was unique, says Wam. – This was hugely due to the expedition in-situ leader Paul E. Aspholm. He is a master at storytelling, and there is almost no fact about nature or local history that he does not know. He is also a very generous and hospital person. Paul made it easy for the rest of the group to keep up the enthusiasm and happy co-living.

"This is so exciting, isn't it?" No, there was no bear in the forest. The very enthusiastic nature educator Paul E. Aspholm has just discovered a fox poo in the road. Photo: Paco Gómez Senent
We asked the participants how they think the competition and expedition contribute to raise interest for STEM education among the young. Teacher Paco from Spain regularly participates in STEM Olympics with his students. He emphasized that the Arctic competition is particularly good because it is applied. – Students need to find a problem and research it. For this reason this competition is better than the typical Olympics, Paco explained. Stylianos, the other teacher and highly active in the EDU-ARCTIC project, agreed – This competition is an activity that the school program normally does not allow. Even students that don't perform so good in ordinary school may have a talent for some of this. You start with a question and make hypotheses. Then to plan an experiment is more of a challenge. This way, the students can learn if they like it. If they learn they do not want to follow a scientific path, that is also valuable information.
– The best way to learn is when you have a motivation, and this competition is a great motivation, said student Pablo, who is already determined to study mathematics and physics at the University starting this autumn. Also student Glykeria believed the experience has increased her chance to pursuit a scientific career – Yes, it brought me closer to science. I hadn't thought to do such a career before, but now I want to do it. I saw how you worked, your relation to nature, how you study every day. Student Triantafillia then added an interesting aspect – Every day we learnt something new here, not only science, also in social skills. We interacted with other nations, local practice, increasing our acceptance. All this knowledge stays in your life forever, helping us to be socially more active.
With those wise final words from three fabulous young aspiring researchers, we say thank you to all who contributed to the expedition, including all 160 student-teacher teams who participated in the competition 2018!
See more photos and stories from the great expedition in the EDU-ARCTIC social media!